HYDRAULIC STRUCTURES
LANDFILL
PUBLIC WORKS
BUILDING CONSTRUCTION
MINING ENGINEERING
HYDRAULIC STRUCTURES DRAINATEX + SOMTUBE FTF
DRAINATEX + SOMTUBE FTF
- Dike drainage
Use
The use of a drainage geosynthetic when building dikes extends the service life of the structures and significantly reduces the risk of failure. The SOMTUBE® FTF + DRAINATEX® solution is recommended when building traditional, water retention dikes (controlled flooding fields). It helps retain the water located on one side of the dike while protecting adjacent land against floods.
DRAINATEX® is installed vertically inside the dike to drain run-off water towards the body of the dike and avoid destabilising it.
SOMTUBE® FTF is placed at the bottom of the dike to collect run-off water underneath the dike in a collector drain, thereby limiting underpressure in the downstream section.
In addition to being cost-effective and easy to install, it has a better impact on the environment as it replaces granular layers and reduces or eliminates the need to transport these resources. 
Benefits
Reduced risk of dike failure
Water retention and flood protection
High drainage capacity under heavy loads
Saving materials
Easy installation with a single product to unroll
Cost-effective and environmentally friendly solution as it replaces granular layers
Features

Drainage

Filtration

Mechanical protection
Characteristics
Drainatex :                                                        
Polypropylene geocomposite
Roll width : 4 metres                             
Roll length : 75 metres                       
Somtube FTF :
Polypropylene geocomposite
Roll width : 3.90 metres
Roll length : 50 metres
3 diameters of perforated mini-drains : 16 mm, 20 mm and 25 mm
4 possible distances between mini-drains : 200 cm, 100 cm, 50 cm and 25 cm
FIND OUT MORE...
Projects completed with DRAINATEX + SOMTUBE FTF
Drainage under and within the body of the dike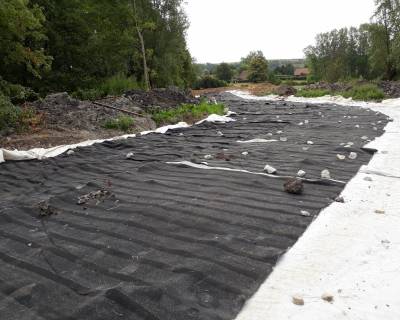 [Hydraulic structures]
Development of controlled flooding field structures - Renty (62)
7 800 m2 (under dike)
As a result of frequent floods, flood storage areas were developed to receive flood waters. SOMTUBE® FTF and DRAINATEX® were used to guarantee the sustainability of the dikes as well as water drainage.