LANDFILL
BUILDING CONSTRUCTION
PUBLIC WORKS
HYDRAULIC STRUCTURES
MINING ENGINEERING
LANDFILL DRAINTUBE FTP
DRAINTUBE FTP
- Water and gas drainage for caps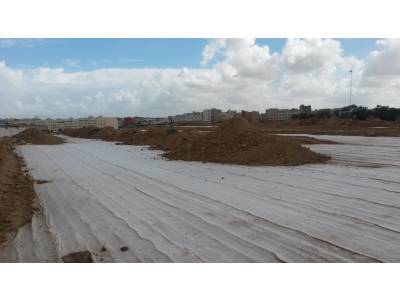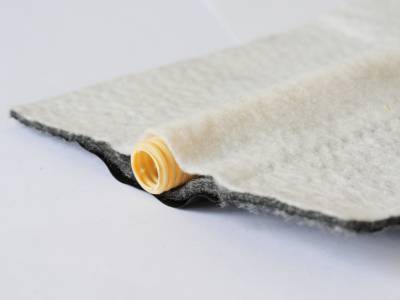 Use
At the end of their operation landfill cells must be closed and covered with topsoil. To allow the ingress of rainwater in the waste mass with a view to guaranteeing its degradation over time, providing the cover with a semi-water barrier with DRAINTUBE® FTP is necessary.
This solution is used on cell caps to drain rainwater and provide the landfill cover with a semi-water barrier.
DRAINTUBE® FTP is the combination, by means of needling, of DRAINTUBE® FT with a polyethylene film to help limit water seepage in waste. The film is 70% needled, meaning that 30% of the surface of the geocomposite is impermeable.
Connection to the collector via the Quick Connect system 
The Quick Connect system directly connects the mini-drains from the DRAINTUBE® FTP to the main collector drain. In the event of gas drainage, it generates negative pressure in the entire system.

Benefits
Filtration of the cover soil layer
Effective drainage of rainwater
Limitation of the infiltration of rainwater through the final cover: less than 20%
Stability of the final cover
Easy installation with a single product to unroll
Cost-effective and environmentally friendly solution as it replaces granular layers
Preservation of the mechanical characteristics of the containment layer
Features

Drainage

Filtration

Mechanical protection

Water barrier
Characteristics
Polypropylene geocomposite combined with a polyethylene film
Roll width : 3.90 m
Roll length : 50 m
3 diameters of perforated mini-drains : 16, 20 and 25 mm
4 possible distances between mini-drains : 200 cm, 100 cm, 50 cm and 25 cm
FIND OUT MORE...